Just for Artists...
"If you want to Draw Clients to Your Art with exactly the Right Words
Then Keep Reading..."
From: Gwenda Joyce
San Rafael, California
October 24,2019

Greetings!
If you've ever felt overwhelmed or frustrated when it comes to getting your art out there, you've come to the right place!
In the last 30 years, I've worked with 100's of artists, so I know how crazy it can be. Many of you would rather do anything else but take your work around to galleries and face that rejection!
If you're like most of my artist clients, you are:
Tired of working so hard just to get by financially
Overwhelmed by the process of marketing your art when you'd rather be in the studio making your art
Frustrated that all your efforts still aren't getting you the results you want
Afraid that you'll never get your art career off the ground and will have to settle for a Real Job
Once that you've made your art, you want to have it shown and seen. And you want to make sales. But most of all, you want the recognition, security and commendation that comes from having a solid art career.
It takes more than a moment for that to happen.
I've actually taught lots of artists to take that first step of simply talking about their art and actually leads to growing confidence and ultimately sales.
How do you do that?
It begins with knowing how to talk about your art without being salesy.
You want to be know how to talk about your art in a way that draws people in so they want to see it.
You want to have with a short art statement that you can use at any time, with a potential buyer, a gallery owner, and even with people who don't know much about art.
I offer a program that helps you master this first step, and gives you the confidence to go on….
It's my Signature Program:
Talking Your Talk:
The Next Step in Becoming a
Thriving Artist
With my online training, you learn to write a short art statement about your art that:
answers the question, what kind of art do you make?
talks about your art in a way that draws people in
uses your own words in a conversational way
expresses your art in plain language that is concise and to the point
is useful in a cover letter or on your website
Are you working too hard without getting the results that you want?
This Online Training comes as a video and guidebook. It is for you if you want to:
Create verbal pictures that draw people to your art by saying more with less
Communicate clearly about your art
Increase your confidence when describing your art
Expand your prospects for sales
Increase your prospects with galleries
I have taught artists this introductory skill
- a skill that changes everything in a positive way!
Here's What People Are Saying About the Program:
"I've always struggled to find the right words to say about my art. Gwenda helped me immensely. I feel so much more confident. It's worth much more than I paid for."
- Beth Changstrom
www.BethChangstromArtwork.com
" I went from "There's no way!" to "I can do it!" I created a short statement and I use it all the time. It's increased my confidence and sales have started to happen."
- Katherine Greene
www.KatherineGreeneFineArt.com
I have developed my Signature Program

"Talking Your Talk –
The Next Step to Becoming a Thriving Artist!"
as a video and guidebook.
It is a program that you can do yourself and
it gets you the results you want.


I want to make you a Special Offer
so you can enroll Now -
and get your Downloadable copy
Move beyond procrastination,
and into a comfort zone of progress!

You will get a
$200 INSTANT REBATE!
A 67% savings!


If you're wondering if you can afford this course right now, ask yourself, "Can I really afford not to?" The truth is, your art career challenges aren't going to get any better unless you do something differently. This program is your chance to learn new skills and think differently. It will bring you real results - more exhibits, more connections, more sales, and more freedom to enjoy every moment of your life.
This is the only online program for artists that prepares you to become completely confident communicating about your art. Learn how your writing can open doors for you. Mastering your words will result in more success and more sales.
Register Now & Move On With
Your Art Career!
Plus, You Get These Special Bonuses when you Order Today
"Talking Your Talk" will help you gain confidence to talk to more people about your art. You will become more secure and draw more people in, with more people wanting to see your art. The results are endless!
By ordering this program, you become part of the Thriving Artist Network, a support group for artists who want to establish and expand their art careers, created by the Art Ambassador.
Your collectors are waiting for you! I look forward to supporting you on your journey to success!
Gwenda Joyce
Art Ambassador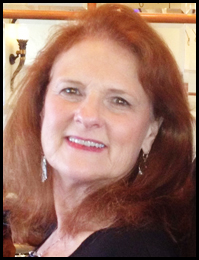 P.S. There are 17 key steps to getting your art out of
the studio and onto gallery walls. Take this next step
on the path to building a successful art career.
---
Any questions? Please e-mail us at: info@artambassador.net
© 2012 Art Ambassador - Making Art World Connections
---