Thank you for your order of
"Talking Your Talk"
The Next Step in Becoming a Thriving Artist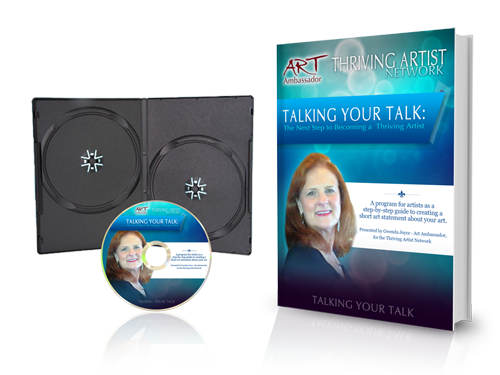 Congratulations for Stepping Up to Your Art Career.
Please click this link to download your copy of the "Talking Your Talk"PDF.
Click Here to Listen to the bonus Audio

---
Stay Connected! Look for your copy of our bi-weekly e-mail newsletter, The Thriving Artist, filled with timely tips, tools, insights, and success strategies for artists.
STEP UP TO YOUR ART CAREER
Gwenda Joyce – Art Ambassador
Creator of the Thriving Artist Network
www.ArtAmbassador.net
---
P.S. To order your Implementation Session,
available only to purchasers of "Talking Your Talk,"
for the special rate of $97, Click Add to cart.